Cornhole Bliss at Malone's Bar and Grill: The Allure of the Game, the Social Buzz, and Delectable Delights
5 min read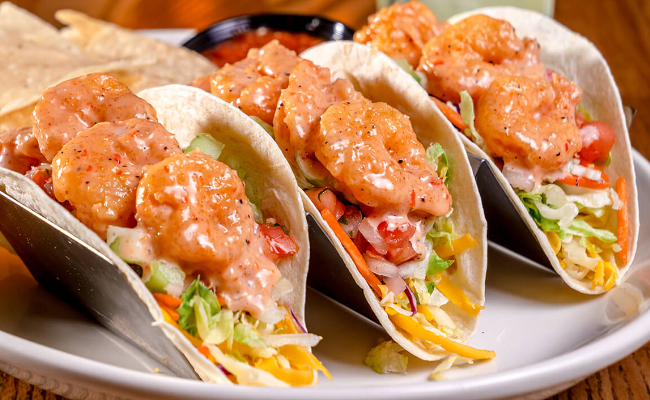 In the heart of Maple Grove, a thrilling spectacle unfolds. At Malone's Bar and Grill, cornhole enthusiasts unite for an unforgettable experience. This article peels back the curtain on the world of cornhole, the infectious social vibe, and the delectable cuisine that sets Malone's apart. Plus, we'll dive into the realm of cornhole tournaments and pick-up games, made easy and free with Connect2PlaySports.com, while answering your burning questions about this beloved pastime.
The Enchanting World of Cornhole
Before we explore the captivating social environment and delectable dishes at Malone's, let's first uncover the enchantment of cornhole itself.
What Makes Cornhole Special?
Cornhole is more than a game; it's an experience. At its core, it's a straightforward concept: toss bean bags at a board with a hole. But within this simplicity lies a world of strategy, precision, and fun that appeals to players of all ages.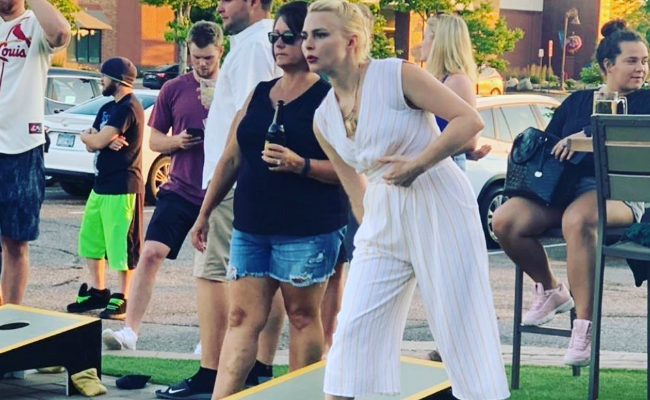 Why Cornhole Has Hearts Aflutter
So, what's the secret recipe that keeps players enamored with cornhole? It's a blend of ingredients that create a truly unique experience:
Accessibility: Cornhole is easy to grasp, ensuring that players of all skill levels can join in the fun.
Versatility: It can be played virtually anywhere – backyards, parks, and, of course, the welcoming atmosphere of Malone's Bar and Grill.
Social Connection: Cornhole naturally fosters social interaction, bringing people together in the spirit of camaraderie.
Achievement and Competition: Successfully landing a cornhole bag in the hole is a satisfying experience, and the game strikes a balance between friendly competition and relaxation.
To learn more about Cornhole and official rules, visit the American Cornhole Association.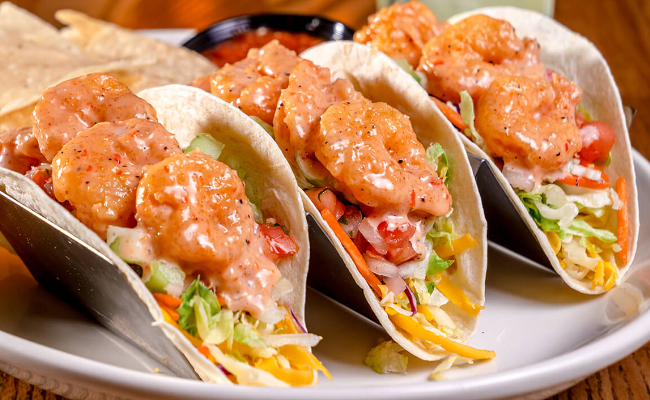 The Social Oasis at Malone's
Cornhole is more than just a game; it's a conduit for forging connections. At Malone's Bar and Grill, the atmosphere is charged with friendly competition, laughter, and conversations. It's the perfect setting to meet new friends, build lasting bonds, and become a part of a welcoming community. And if you happen to drop in at happy hour, you might want to check out Malone's drink menu.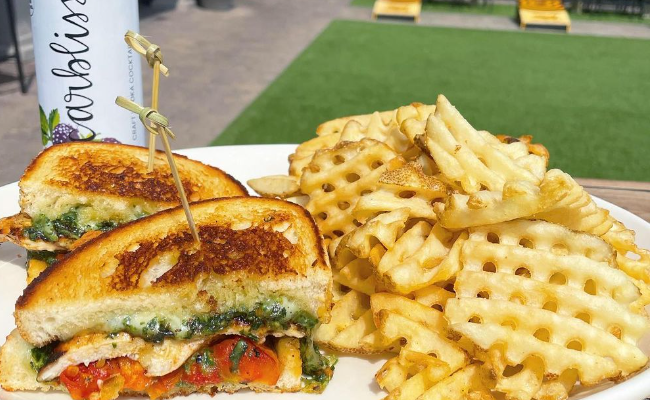 Culinary Delights at Malone's
After an exhilarating game of cornhole, there's nothing quite like indulging in scrumptious food. Malone's food menu offers an array of culinary delights, from juicy burgers to fresh salads, catering to every palate. It's the perfect ending to a day filled with excitement and fun.
Tournaments and Pick-Up Games: Effortless with Connect2PlaySports.com
Are you itching to take your cornhole passion to the next level? With Connect2PlaySports.com, organizing your cornhole tournaments and pick-up games is a breeze. It's a fantastic way to bring the cornhole community together and spread the love for this fantastic game.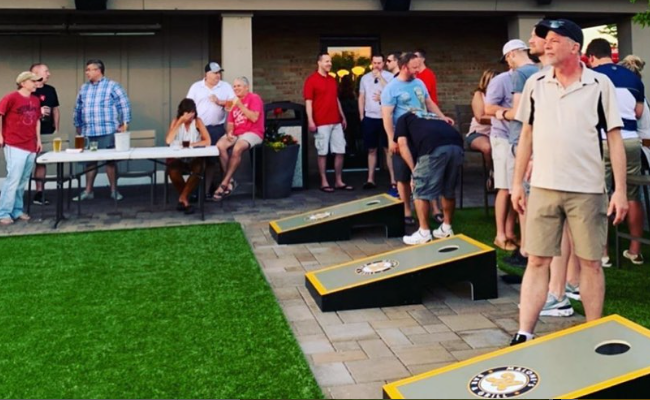 Frequently Asked Questions: Your Cornhole Curiosities Answered
Q1: What is the origin of cornhole, and how did it become so popular?
Cornhole, also known as bean bag toss, has origins that are debated, but the modern version is believed to have roots in the Midwest, particularly Ohio and Kentucky, in the early 20th century. Made of wooden boards with a hole and bags filled with corn kernels, it's a game that's simple to learn but offers depth for competitive play. Its popularity surged due to its suitability for players of all ages and its widespread presence at tailgates, backyard parties, and outdoor events. Over time, regional tournaments gave way to national championships, cementing its place in American recreational culture.
Q2: How has the design and materials used in cornhole boards and bags evolved over the years?
The design and materials of cornhole boards and bags have seen a fair share of evolution as the game has grown in popularity and professionalism.
Cornhole Boards:
Historical Design: Earlier versions were often homemade, crafted from whatever wood was available, with a hole roughly cut out. They might not have been standardized in size or angle.
Modern Design: Today's boards are usually made of a smooth plywood surface to ensure a consistent bounce and slide of the bags. The dimensions and angle of inclination have been standardized, especially for tournament play. Furthermore, with the rise in popularity, boards have become customizable, with many featuring intricate designs, team logos, or personal graphics.
Cornhole Bags:
Historical Materials: Originally, as the name implies, these bags were filled with corn. This gave them a particular heft and feel, but also made them susceptible to rot, mold, and critter infestations.
Modern Materials: While corn-filled bags are still popular, especially for purists, bags filled with plastic pellets have gained traction. They resist decay, mold, and are typically more durable. The outer material has also seen upgrades, with double-stitched fabric ensuring the bags last longer and withstand the impacts better.
With the sport's rising popularity, there's been a push for standardization, especially in tournament settings, leading to these evolved and more consistent designs and materials.
Q3: What are some strategies and tips top cornhole players use to consistently score and win?
Top cornhole players employ a mix of technique and strategy to dominate the game. Technique-wise, they perfect their stance and throwing motion for consistency. Many opt for a flat, spinning toss, which stabilizes the bag in the air and ensures a predictable slide on the board. A spin also prevents the bag from bouncing off target. Strategically, players aim to either slide their bag into the hole or position it to block the opponent. They also decide between throwing a "blocker" (a bag placed before the hole to stop other bags) or an "airmail" (a direct throw into the hole, bypassing blockers). Reading the board and the opponent's strengths and weaknesses are crucial, allowing top players to adjust tactics on the fly, ensuring they consistently score and win.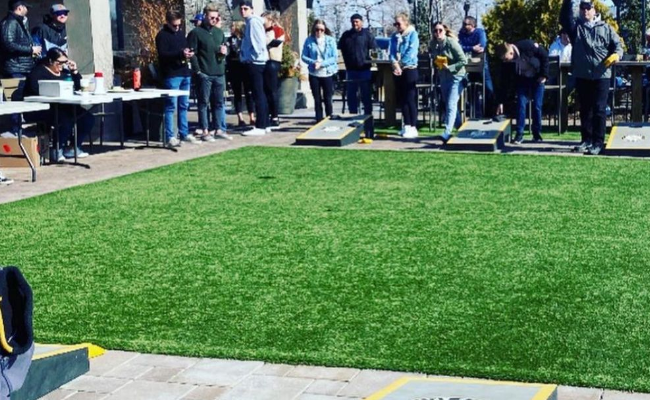 Your Cornhole Adventure Awaits
So, why do people flock to Malone's Bar and Grill in Maple Grove to play cornhole, immerse themselves in the social environment, and savor mouthwatering food? It's the irresistible combination of fun, friendship, and culinary delights that makes Malone's the ultimate destination for cornhole enthusiasts.
Join the cornhole craze, make new friends, indulge in delicious dishes, and set up your own tournaments with Connect2PlaySports.com. At Malone's Bar and Grill, every day is a cornhole adventure waiting to happen!
If you're also interested in exploring other exciting adult sports leagues, check out our article on the Lookout Bar and Grill's adult cornhole and sand volleyball leagues, along with their fantastic food and drinks options here.